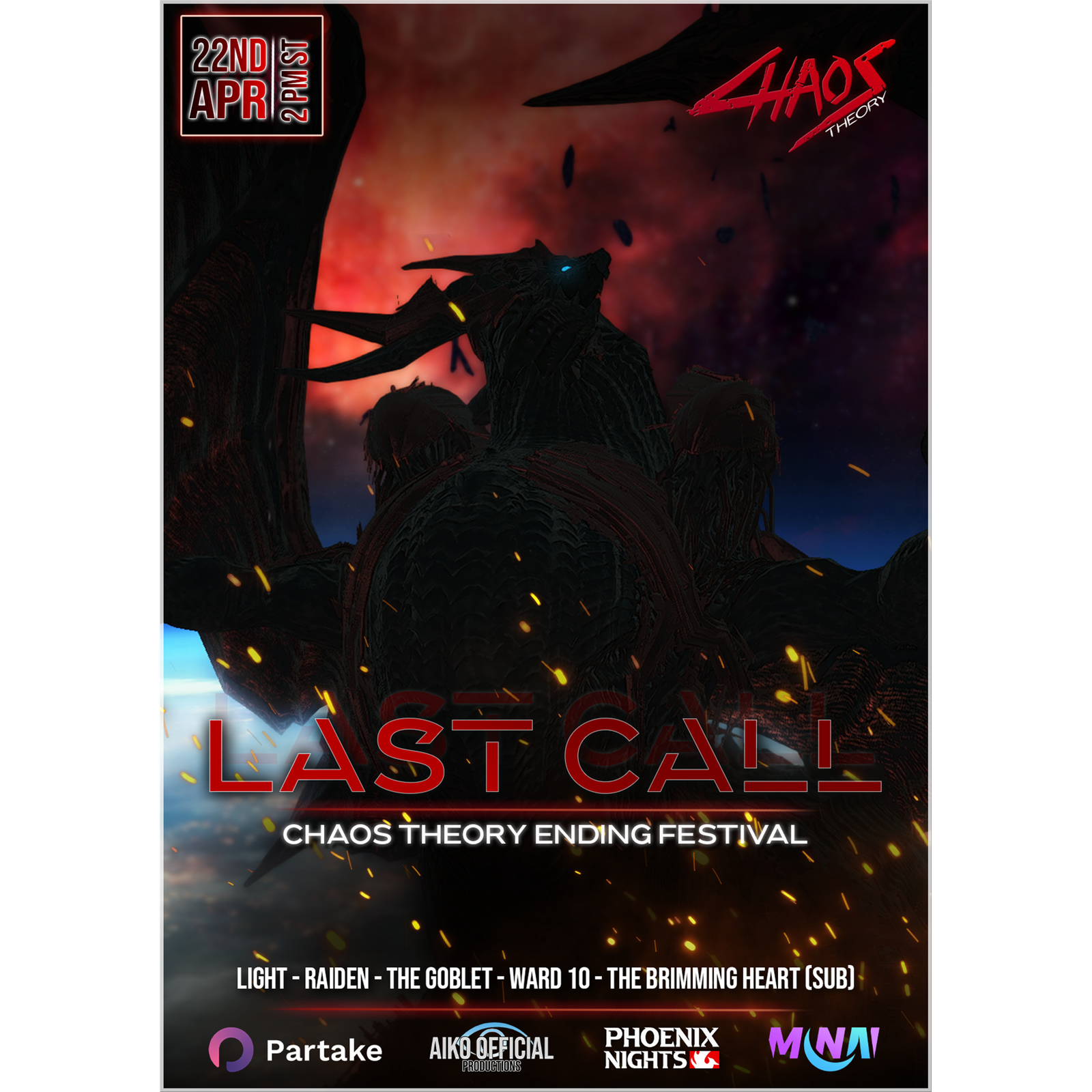 "Think"


Over the past months we've been fighting summoned Primals stronger than before all over Eorzea.
We've travelled from Oceania to America to stand together with all you Warriors of Light out there - and we did it.




"Feel"


Our enemies were eliminated and the lands are safe once more - but for how long? And what is it that will rule the continent from now on?




Light vs. Chaos


A neverending conflict - but no matter the outcome, it is now time to lay down our arms and celebrate.
Let's enjoy the festivities of Chaos Theory one last time - for now.





Our Ending festival features:


Gpose-Areas
Again, you can find two houses designed for GPosing with photographers to take your picture - or you can do it yourself.




Gambling-Area
Phoenix Nights is hosting their legendary casino again.
And not only do they bring their own gambling to the place, they also prepared something very special.




Chaos Theory Special: Phoenix Bingo!
> The game starts at 19:00 ST
> Everyone is given 5 numbers between 1 and 25 per card. If all five of your numbers on that card are called you have a bingo!
> If a number gets called, which already got called before, it will be rerolled.
> The first person who calls their Bingo wins the game!
> We will then take a second to compare the numbers with your card(s) and you will be paid accordingly.
> You are only able to buy up to 10 cards per round. The prize for each round is between 5-10M gil!


Card Prices
> 1 card: 50k
> 5 cards: 200k
> 10 cards: 400k


You can pre-order cards on discord, just contact Mianne#4543 or Kurokami#7811!




Void House
The Jumping Puzzle house was rebuilt and is featuring a completely new challenge for all of you to take on.
Can you make it to the top? Will you be the next jump master?




Artist Area
We once again invited artists to our festival - get to know them, talk to them, ask for commissions and let them sketch your characters!




Minigame Area
The Sinners are hosting a Minigame house with several activities - you should definitely find your way there!





Mainstage and DJs
What would Chaos Theory be without our legendary DJ lineup. Check out who is performing at which time:




"Hear"


Starting the celebration ahead of time:
Apr 22, 2023, 12:00 PM | Minai
Join our Chaosbringers:
Apr 22, 2023, 2:00 PM | Aiko
Apr 22, 2023, 3:00 PM | Shishiro
Apr 22, 2023, 4:00 PM | P4NTH3R
Apr 22, 2023, 6:00 PM | Nynu
Apr 22, 2023, 8:00 PM | Swage
Apr 22, 2023, 10:00 PM | Minai
Apr 23, 2023, 12:00 AM | MannMade
Apr 23, 2023, 2:00 AM | XOVR
Apr 23, 2023, 4:00 AM | Fabo
Apr 23, 2023, 6:00 AM | GloBug
Apr 23, 2023, 8:00 AM | 2.0
Apr 23, 2023, 10:00 AM | Kari Kohaku
Apr 23, 2023, 12:00 PM | Poppy Tea
Apr 23, 2023, 2:00 PM | Squishie
Apr 23, 2023, 4:00 PM | Aiko
Apr 23, 2023, 5:00 PM | Minai